Marine Construction Systems
Trimble is the leader in precise marine GNSS positioning technology that enables a range of marine construction systems including hardware and software solutions to optimize the productivity and efficiency of dredging, marine construction and hydrographic workflows. Trimble offers a range of hardware and software solutions including GNSS receivers, correction sources, radios, inertial positioning systems, antennas, tablets, computers and marine construction software.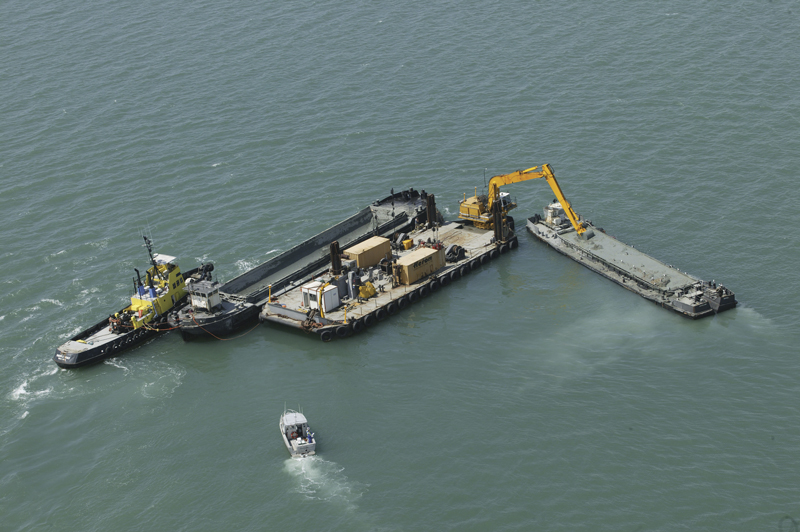 Marine Construction Systems
Accurate Real-Time 3D Visualization and Positioning
Precise Wick Drain Arrays
Accurate Armor Rock Placement
Semi-Autonomous Hydrographic Survey
Efficient Hydrographic Survey
Faster Positioning
Reduce Over and Under Dredging
Precise Pile Driving
Dredging Accurate to the Design
Underwater Demolition Operation
Real-Time Feedback for Operators
Dredge
For cutter suction, bucket dredge, backhoe excavator, and wire crane clamshell dredging.
Visualize the tool angle and position in 3D, plan and profile views
View absolute tool position vs. Digital Terrain Model (DTM) and design model
Up to 50% faster spotting time
Up to 10% more efficient dredging
Typically reduce over-dredging delta by 50%
Compare design vs. actual construction in 'as-building
Construct
For drilling, piling, rock placement, caisson and block placement applications.
Real-time view of the machine and barge in plan and profile views, including tool, surveyed and design depths
Continuous data logging for as-building and volume reports
Import or build project design and survey models in the office or field
Optional real-time sonar inputs for as-building verification; RTK GNSS for precise tide measurement; Block orientation solutions
Hydrographic Survey
For efficient survey planning, data acquisition and volume calculation.
Supports single and multi-beam hydrographic workflows
Efficient acquisition and volume calculations
Efficient and accurate surveying manages large data sets
Single-beam interpolation for grid models
Supports Trimble inertial sensors for vessel roll, pitch, heave and heading
Single beam data editing and plotting
Positioning
For barges, tugs, offshore-rig, anchor-handling tug vessels and other construction vessels.
Accurate guidance, tracking and positioning
Cost-effective permanent or temporary installation solutions
Operators receive simple forward/back, port/starboard, and clockwise/anti-clockwise guidance, which allows them to position the vessel quickly and efficiently
Hardware
Tide Monitoring:

Trimble GNSS receivers provide precise cost-effective real-time monitoring of tidal and other water level changes, removing the need for tide gauges and associated radio links.
Trimble RTX:
Trimble RTX is our exclusive, advanced PPP technology that provides real-time, centimeter-level positions. It provides true mobility working without the constraints of a local base station or VRS network, with high-level accuracy delivered to you worldwide via satellite or Cellular/IP.
MSK Beacon Support:
The MSK Beacon service is a free-to-air correction signal, and MSK transmissions are available in many costal regions and inland waterways around the world.
Rugged and Reliable Solutions:
Downtime can quickly reduce the profitability of a project, so Trimble designs hardware for aggressive marine environments and reliable software to keep your operation running.
Full Advice, Installation, Service and Support:
Trimble marine technology is supported by a worldwide dealer network of installers and integrators. Your local dealer can assist with product selection advice, installation, calibration, training and service support.
Flexible, Scalable, and Upgradeable:
Trimble GNSS receivers provide a range of accuracy and upgrades, simply upgrade to the level of precision you require.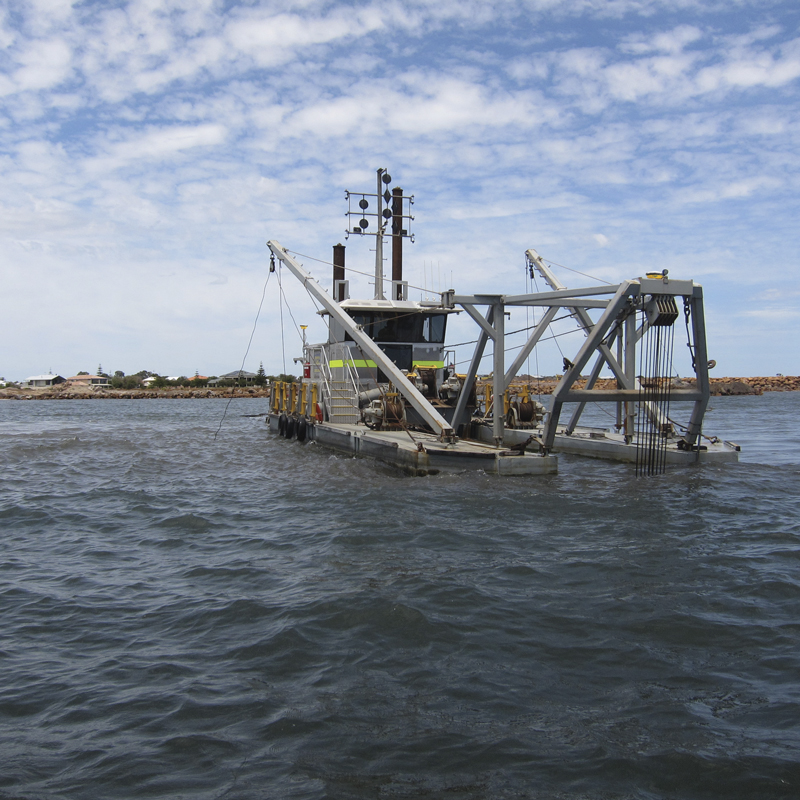 3D Guidance and Visualization Systems
Description
Marine construction visualization systems help improve the accuracy, efficiency and speed of dredging, piling, placement and hydrographic surveying workflows.
Innovative 3D visualization applications significantly improve the accuracy of dredging and surveying by empowering the operator to work smarter and to avoid rework.
Marine Visualization Software Components
Leading 3D visualization systems can support a breadth of applications and dredging and marine construction operations, including:
Dredging:

Backhoe/excavator dredger
Grab/clamshell dredger
Cutter suction dredger
Bucket dredger

Rock Dumping and Placement

Caisson placement
Block placement using a wire crane or excavator
Vertical and raked pile placement

Inspect, Repair, and Maintain (IRM)
Hydrographic Survey

Single beam hydrographic survey
Multi-beam hydrographic survey
Track Work in Progress
Provides real-time visualization of the dredge tool showing the operator the actual versus planned surface being constructed.
With visualization technology the operator has a real-time view of the dredge and barge in plan and profile views.
For an excavator dredge, the position of the bucket relative to the design is tracked continuously and displayed.
A color-coded Digital Terrain Model (DTM) highlights the high and low spots compared to the design.
The model is updated in real-time from the position of the bucket teeth and the bucket width, which, as a result, tracks the progress of the dredging work.
The surface DTM is updated registering the development of the dredging work and showing depth, differential and production models according to the progress of the bucket.
Combined with sonar technology, dredging companies, and those focused on hydraulic engineering, construction, offshore and survey have an even greater underwater vision in the most challenging inshore underwater environments and conditions.
Visualization Adds Verification and Improves Safety
Seeing what is underwater in the proximity of the work or seeing the work removes the need for intermediate inspections with ROVs or divers.
Removing the diver from the project will reduce the hazard for personnel working with the system.
A construction barge can be used for scanning an area without the need for a survey vessel. This improves productivity by removing the need for post-survey processing.
Real-time Visualization and Reporting
Machine operators can set over-dredge and under-dredge tolerances on the profile view of the dredge head.
A 3D picture gives the operator an explicit visual representation of where they need to position the dredge head underneath the water.
Provides real-time sensor data gathering, computation, display and logs.
Also provides options to display data either graphically or alphanumerically and to present the data in the form of models, tables, files, volumes, nautical charts or reports.
Enhance communication with internal teams while also strengthening customer communication and trust.
Selecting Hardware Components and Accurate Positioning Systems
GNSS receivers can use corrections from a site base station or VRS to achieve high accuracy.
Precision is maintained via precise sensors on the dredge, barge, cranes, tugs and excavators are continuously feeding the software data for accurate roll, pitch and location information.
Additional components include in-cab displays, surface viewing screens, GNSS receivers, pitch and roll sensors, and communications (e.g. Wi-Fi, radio or cellular).
Marine receivers and positioning sensors provide the ability to monitor tidal and other water level changes in real-time.
Our most advanced dual-frequency, real-time kinematic (RTK) receivers deliver precise dynamic positioning with 20 mm (1") accuracies, 20 times per second with a latency of less than 20 milliseconds.
Receivers receive corrections from a traditional base station or other sources.
Software, Hardware, Training and Support
Consistent uptime from every sensor and 3D visualization component is necessary in order to collect accurate data and to ensure enhanced production over the life of the project.
Opting for a more integrated implementation where they deploy marine-specific hardware and software from a single vendor eliminates the potentially costly risk of integration challenges that can cause slowdowns or missed opportunities.
Components are deployed from one manufacturer or partner and share a standard interface.
Users can reuse data and accessories across multiple applications much more efficiently and those integrations are already built to work with existing hardware and workflows.
Operators and training managers can spend less time training and more time getting work done, as the software similarities between workflows make it easy to transition.
3D Onboard Displays
Includes an in-cab display and surface viewing screens. Gives operators a real-time overview of the excavator and barge from multiple views.
Accurately display and record complex design surfaces and a 3D display of the bucket as it breaks the seabed surface.
Guides the operator back to the last dig each time work begins.
Essential feature when projects take place over several weeks or when machines need to stop at designated times to keep shipping lanes clear.
Displays are customizable, giving lead engineers the ability to set up the screen to meet their exact preferences and to sync up with existing workflows.
Displays have larger screen resolutions and clearer screens that enhance the operator experience with 2D and 3D profile information, grade guidance, and warnings.
Environmental Auditing
Provides easy-to-understand graphs, maps and tables to update the project manager and ensure that stakeholders are informed of any changes or work completed around sensitive environments.
Reporting capabilities tied directly into the visualization software and guidance technology can streamline the reporting process allowing project managers to create volume reports and other status reports.
Return on Investment
By tracking 'as-building' progress, contractors can avoid rework and the potential to return a machine to a site after the survey when areas may have been missed or material has moved.
Real-time progress reports also provide an early indicator that the project will be delivered on time.
Marine Construction Software for Positiong
Description
The system consists of Trimble Marine Construction software and a single beam echo sounder (SBES) for data acquisition, editing, plotting and dredge volume calculations.
Contractors can reduce rework, increase productivity and improve site safety with a better understanding of the underwater environment.
The accuracy of the waterway bed survey is the combined accuracy of the GNSS position and the echosounder, which can be better than 10 cm (4 inches) vertically.
The use of Trimble Marine Construction software real-time filters helps to create a clean surface that can be sent to the dredge or the office for analysis.
Applications
The Trimble Marine Construction Software for Positioning is suitable for navigation tasks such as:
Clear and precise survey boat, workboat, or barge positioning and orientation at the dredge/construction site.
Aid to Navigation (ATON) buoys and anchor placement.
Dredging support for pre-/post-dredge surveys to identify high and low spots.
Calculate progress volumes and send grid model updates to both the office and the dredge vessel.
Aquaculture construction and navigation (e.g. oyster, mussel farms).
Key Features
Simple SBES data acquisition management, editing and plotting.
Accurate dredge volume calculations.
Supports subscription electronic charts, open-source charts and Automatic Identification Systems (AIS) for improved safety and navigation in congested waterways.
Compatible with a wide range of Trimble and third-party sensors (single beam echo sounders, Trimble GNSS receivers, attitude sensors, etc.).
Quickly generate run-line patterns before or during a survey for precise navigation and greater efficiency.
Low cost, simple background charting Electronic Chart Display and Information System (ECDIS).
Real-time echogram display for seabed/riverbed feature inspection and identification.
Reliable and stable solution suitable for the challenges of marine construction large data sets.
Offline echogram editing.
Innovative single beam interpolation in Digital Terrain Model (DTM) for better results.
Undo and redo editing functions.
Interactive graphical user interface with top, profile and 3D views and color-coded Digital Terrain Model (DTM).
Apply Sound Velocity Profiles (SVP).
Advanced plotting and reporting capabilities.
General Overview
Complete software suite for acquisition and data editing.
Easy to adapt to your project's needs.
Integrates with Trimble Marine Construction Dredging and Placement applications.
Data can be exported to Trimble Business Center for sharing.
Wizard guides users through the setup.
Vessel shape file import (DXF or SketchUp models).
Create track guidance lines, waypoints and routes.
Accessory Interface Options
Positioning systems.
Single-beam echo sounders.
Compass or dual GNSS heading.
Motion sensor.
Tide gauges.
Eventing to echosounder.
Acquisition and logging of all sensors in a single file.
Data Acquisition
Show charts, DXF and AIS vessel data as plan view background.
Digital Terrain Model (DTM) with corrected depths in color-coded cells.
Plan view with survey progress.
Status views of equipment, logging and alarms.
Online correction for:

Vessel roll, pitch and heave
Offsets
RTK height and tide

Helmsman display with run-line guidance.
Echogram display.
Processing
Position editor shows position with DXF, Geotiff, S57, C-map and grid model in background.
Line-based editor shows data relative to the sailed line.
Tidal data editor.
All editors show the original position together with edited and removed data.
All editors have the following functions:

Delete/Undelete function
Move/Smooth function
Interpolate/Find spikes function
Undo/Redo function

Tide can be applied, reapplied and removed without data replay.
Generate new models quickly and directly from the data file.
Direct generation of the 3D model from DTM.
Filter DTM data, view depths, standard deviations and hits per cell, interpolate functions.
Charting
Generate charts using administrator-defined and user templates.
Multiple plan views and multiple profiles.
Depth contours, text and images.
Fast chart generation and printing.
Volume Computation
Compute volumes and generate reports from:
DTM grid model
Rapid grid model volumes and reporting
Volumes direct form data files using wizard.
Design modes by either:
Profile design
DTM model
Data export into XYZ Microsoft® Excel® sheets
Smart Receivers
The
Trimble R780 GNSS Smart Antenna
is engineered to stand up to the most dynamic and rugged job site measurement applications.
Ultra-rugged.
Integrated IMU for eBubble and tilt compensation.
Supports all GNSS constellations.
Base or rover.
The
Trimble SPS785 GNSS Smart Antenna
can be used as a base or rover, featuring Trimble quality and accuracy priced for a faster return on investment.
GNSS receiver, antenna and battery in one unit.
Inside-the-rod UHF antenna for maximum protection and reliability.
Long range Bluetooth®
Marine Receivers
The
Trimble MPS865 GNSS heading Receiver
with the
GS830 Marine Antenna
can function as a base or rover, on land or at sea for dredging and surveying operations.
Supports all GNSS constellations.
Configurable for base or rover.
Utilize for on-land surveying operations.
Use on-machine for dredging and cosntruction.
Need Trimble Construction Technology for Your Next Project?